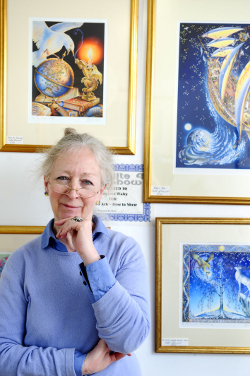 Guest of Honour: Margaret Walty
Margaret was born in Switzerland and studied jewellery and silversmithing at the École des Arts Décoratifs, Geneva. She has exhibited widely in the UK and abroad, including at numerous Science Fiction and Fantasy Conventions. Her work, which is inspired by light, myth and the scenery of the Scottish Borders (where she has lived for the past 30 years) is immediately recognisable because of its incredibly fine detail.
Margaret has been awarded four Gold Medals by the Royal Horticultural Society and the Royal Caledonian Horticultural Society for her botanical illustrations.
For more on Margaret's work see here.